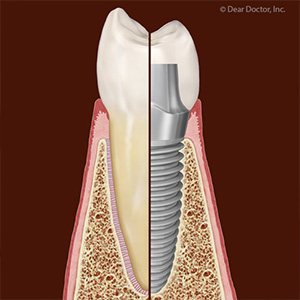 There are several reasons why dental implants are so popular. Perhaps the most important, though, is their longevity: if maintained properly implants can last for decades. However, they're not indestructible—certain mouth conditions could put them at risk for early failure. But if you address emerging problems early, you may be able to prevent that unfortunate outcome.
Your implants may be in danger, for example, if you have a teeth grinding or clenching habit. This occurs when a person involuntarily and repeatedly bites down on their teeth when not chewing or speaking. Usually triggered in adults by high stress, teeth grinding can subject both natural teeth and implants to damaging levels of force. Over time this can cause bone loss around an implant and weaken their support. It could also cause a direct break in an implant.
But there are ways to stop or at least reduce the effects of teeth grinding. One effective way is a custom-made bite guard you wear while you sleep. Made of hard plastic, the guard prevents the teeth from making solid contact with each other, reducing the amount of force generated.
A more prominent problem is periodontal (gum) disease, a bacterial infection caused by built-up dental plaque on tooth surfaces. This can trigger inflammation, a normal defensive response that when it persists for an extended period of time can damage tissues and supporting bone. It can also cause a specific form of gum disease related to implants called peri-implantitis, in which the tissues that support an implant become infected and weaken, leading eventually to possible implant failure.
If you have implants, then, you should brush and floss daily to prevent gum disease, as well as see your dentist at least every six months for cleanings and checkups. And if you notice anything like reddened, swollen or bleeding gums, see your dentist immediately. The sooner you undergo treatment, the better the outcome for your implants as well as your overall health.
Dental implants can give you years of great service and can prove to be well worth the cost. But you'll have to stay on your guard against gum disease and other mouth conditions that could endanger them down the road.
If you would like more information on dental implants, please contact us or schedule an appointment for a consultation. You can also learn more about this topic by reading the Dear Doctor magazine article "Dental Implants: A Tooth-Replacement Method that Rarely Fails."