Posts for: May, 2021
By Park Hill Dental Arts
May 13, 2021

It's been a rough year for all of us, but especially for Simon Cowell. The famous entrepreneur and brutally honest talent judge on American Idol and America's Got Talent underwent emergency back surgery in August after an accident on a new electric bike. But the good news is he's well on his way to recovery—and well enough in October to undergo another, less-stressful, procedure: a smile makeover with dental veneers.
This latest trip to the dentist wasn't Cowell's first experience with the popular restoration, wanting this time to update his smile to more closely resemble what he had when he was younger. He even brought along some older photos for reference.
Veneers aren't exclusive to celebrities like Simon Cowell, as thousands of people who get them every year can attest. These thin wafers of porcelain bonded to teeth can mask a wide range of defects, from chips, wear or discoloration to slight tooth gaps or misalignments. And every veneer is custom-made to match an individual patient's dental dimensions and coloring.
If you're thinking about a smile upgrade, here are a few reasons to consider dental veneers.
More bang for your buck. Compared to other transformative cosmetic options, veneers are relatively affordable, with the cost dependent largely on the extent of your dental needs. Still, dental veneers are an investment that can give long-lasting yields of a more attractive smile and even a completely new look.
Little to no tooth alteration. In most veneer cases, we need only remove a small amount of enamel so the veneers don't appear bulky (the alteration is permanent, though, so you'll need a veneer on the tooth from then on). It's also possible to get "no-prep" veneers requiring little to no alteration.
Durable and long-lasting. Continuing improvements in porcelain and other dental ceramics have led to stronger forms that can better withstand the biting forces your teeth encounter every day. Although you'll still need to be careful biting into hard items, your veneers can last for several years.
Easy to maintain. Veneer cleaning and maintenance is much the same as with natural teeth—daily brushing and flossing, and regular dental cleanings and checkups. Outside of that, you'll need to watch what you chomp down on: Veneers are strong, but not indestructible, and they can break.
As Simon Cowell knows, getting veneers isn't difficult. It starts with an initial visit so we can evaluate your dental health and needs. From there, we can present options on how to update your smile.
If you would like more information about dental veneers, please contact us or schedule a consultation. To learn more, read the Dear Doctor magazine articles "Porcelain Veneers" and "No-Prep Porcelain Veneers."
By Park Hill Dental Arts
May 03, 2021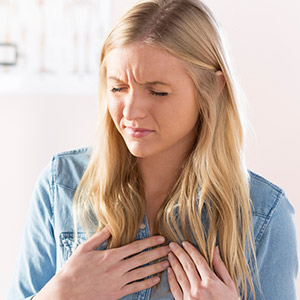 Your tooth enamel is often under assault from oral acid produced by bacteria and certain foods. Unless neutralized, acid can erode your enamel, and lead to destructive tooth decay.
But there's another type of acid that may be even more destructive—the acid produced in your stomach. Although important for food digestion, stomach acid outside of its normal environment can be destructive. That includes your teeth, if stomach acid finds its way into your mouth. And that can happen if you have gastroesophageal reflux disease (GERD).
GERD, a chronic condition affecting 1 in 5 adults, is caused by the weakening of the lower esophageal sphincter, a ring of muscle at the intersection of the esophagus and the stomach that prevents stomach acid from traveling back into the digestive tract and damaging the esophageal liner.
It's also possible for stomach acid to travel as far up as the mouth. With a pH of 2.0 or less, stomach acid can lower the mouth's normal pH level of 7.0 well below the 5.5 pH threshold for enamel softening and erosion. This can cause your teeth, primarily the inside surfaces of the upper teeth, to become thin, pitted or yellowed. Your teeth's sensitivity may also increase.
If you have GERD, you can take precautions to avoid tooth damage and the extensive dental work that may follow.
Boost acid buffering by rinsing with water (or a cup of water mixed with a ½ teaspoon of baking soda) or chewing on an antacid tablet.
Wait about an hour to brush your teeth following a reflux episode so that your saliva has time to neutralize acid and re-mineralize enamel.
If you have chronic dry mouth, stimulate saliva production by drinking more water, chewing xylitol gum or using a saliva supplement.
You can also seek to minimize GERD by avoiding tobacco and limiting your consumption of alcohol, caffeine or spicy and acidic foods. Your doctor may also prescribe medication to control your GERD symptoms.
Preventing tooth decay or gum disease from the normal occurrences of oral acid is a daily hygiene battle. Don't let GERD-related acid add to the burden.
If you would like more information on protecting your teeth from acid reflux, please contact us or schedule an appointment for a consultation. You can also learn more about this topic by reading the Dear Doctor magazine article "GERD and Oral Health."