Posts for tag: crowns
By Park Hill Dental Arts
July 30, 2019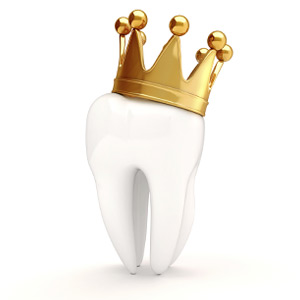 If your tooth sustains damage that compromises its structure — typically through decay or trauma — you have several options depending on the extent of the damage: One of them is a crown. This method saves the tooth and its root and completely conceals the visible portion of the tooth, or crown, under a natural-looking cap made to mimic as closely as possible the size, shape and color of the original tooth.
Crowns also hide imperfections in the original tooth like discoloration, chipping, fractures, excessive wear (from bruxism, or tooth grinding, for example), or abnormalities in the way the tooth formed. And they're used following root canal treatments, which treat infected pulp at the center (canal) of a tooth root by removing the pulp and replacing it with an inert, rubber-like material.
Saving the natural tooth has long been the goal of dentistry because normal micromovements of the tooth root, which is suspended in its jawbone socket by elastic ligaments, stimulate the surrounding bone to rejuvenate. Without that stimulation, the bone continues to lose old cells, but no longer replaces them. Crowns are also designed to restore tooth function.
The function and location of the damaged tooth can determine what material the crown will be made of. If the damaged tooth is clearly visible when you smile, porcelain, the most realistic-looking material, is almost always used. If the tooth receives significant bite force, a stronger material is considered — either, a gold/porcelain combination, or a high-strength ceramic. If you are restoring a second molar, an all-gold crown may be considered.
With the advent of dental implants, saving a damaged tooth is no longer the only option for preserving the health of the bone surrounding the tooth root. The implant — a tiny biocompatible, titanium screw-like artificial root — is placed in the jawbone and is then capped with a natural-looking crown of course!
If you would like more information about dental crowns, please contact us or schedule an appointment for a consultation. You can also learn more about this topic by reading the Dear Doctor magazine article "Crowns & Bridgework."
By Park Hill Dental Arts
October 01, 2018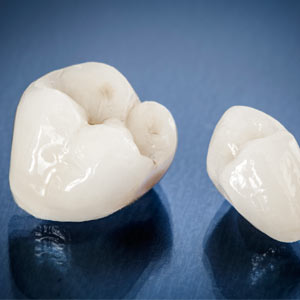 If you're in need of a crown to cover a damaged tooth, you have a lot of options. But before you choose, you need to know what you want. Would you be happy with an affordable, well-fitting crown that holds up well and allows you to chew comfortably? Or are you interested in a more expensive one that also provides the most attractive result?
Crowns have been a mainstay in dentistry for generations. The first were made of metals like gold or silver — durable and effective but not very attractive.
In time, a ceramic material known as dental porcelain began to make its appearance in crowns. Dental porcelain could be fashioned to resemble the color and texture of natural teeth, but it had a significant drawback: it could be brittle and subject to shattering under chewing pressure.
This problem was somewhat addressed with the innovation of a crown with a metal substructure fused with an outer layer of porcelain. These porcelain-fused-to-metal (PFM) crowns combined the best advantages of both materials: strength and life-likeness. Up until around the mid-2000s, PFM made up over 80% of crowns.
But later porcelains continued to improve in strength, beginning in 1993 with the introduction of a Lucite-reinforced material. Newer formulations like lithium disilicate or zirconium oxide (now considered the strongest porcelain) have made all-porcelain crowns a viable option. Today, an estimated 60% of new crowns are all-porcelain.
From an appearance standpoint, all-porcelain crowns achieve the best results. The most realistic crown can be costly — not because of the material but the level of artistry required. A skilled dental technician will spend several hours, including brushing on as many as fifteen coats of liquid porcelain to the crown, to achieve the most life-like outcome. Your insurance plan, if you have one, will most likely not pay as high a percentage for that type of crown.
In the end, it's your decision as to what type of crown you wish to have. We'll help you weigh your options and decide what's best for you and your budget.
If you would like more information on crown options, please contact us or schedule an appointment for a consultation.