Posts for tag: tooth decay
By Park Hill Dental Arts
October 08, 2019
$9.1 billion: That's how much we Americans spent in 2018 on Halloween festivities, according to the National Retail Federation. And a sizeable chunk of that was for candy—a whopping 600 million pounds worth. That, my friends, is a lot of sugary goodness. For kids, it's what Halloween is all about—scoring a sack full of sticky, gooey, crunchy candy. For parents, though, all that sugar raises concerns for their kids' dental health.
That's because of something that loves sugar as much as little humans: oral bacteria. The more these microscopic creatures consume, the more they reproduce, which consequently leads to more mouth acid, a by-product of their digestion. Elevated acid levels can dissolve the mineral content in enamel and create the conditions for tooth decay.
To cut to the chase, excessive candy consumption increases the risk of tooth decay. Short of banning candy and ruining your kids' holiday fun, what then can you do to lower that risk this Halloween?
Here are a few tips:
Limit candy to mealtimes. The mouth's acid levels tend to rise while we're eating. The body counters with saliva, which has the capacity to neutralize acid and restore lost minerals to enamel. But if your kids are snacking on sweets over a long period, saliva can't get ahead of the recurring waves of acid. So, try to limit your kids' candy consumption to a few pieces at mealtimes only.
Don't brush right after eating candy. The short period during and after eating of high acid levels can still soften tooth enamel. If your child brushes soon after eating candy, they could also remove tiny bits of softened enamel. Instead, wait at least 30 minutes to an hour before brushing to allow saliva time to remineralize the enamel.
Encourage alternatives to candy as Halloween treats. While candy is a huge part of Halloween, it needn't have a monopoly on all the celebratory fun. So, encourage your little tricksters to accept—and their treaters to provide—other kinds of treats like small toys, glow sticks, or other items that count as treasure to children (be sure they're age-appropriate, though).
Halloween is a great time of family fun, and candy may always play a prominent role in the merriment. Just be sure to practice moderation with sweet Halloween treats to avoid dental problems down the road.
If you would like more information about how to manage your family's sugar consumption for optimum dental health, please contact us or schedule a consultation. To learn more, read the Dear Doctor magazine articles "The Bitter Truth About Sugar" and "Nutrition & Oral Health."
By Park Hill Dental Arts
July 20, 2019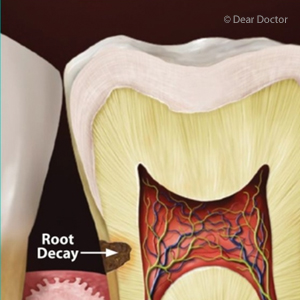 Tooth decay is a destructive oral disease, which along with periodontal (gum) disease is most responsible for tooth loss. And as you age, your disease risk goes up.
One form of decay older people often experience is root cavities. Unlike those occurring in the visible crown, root cavities often occur below the gum line and are especially destructive to tooth structure.
That's because, unlike the crown protected by ultra-hard enamel, the roots are covered by a thin, mineralized material called cementum. Although cementum offers some protection, it can't compare with the decay-resistant capacity of enamel.
The roots also depend on gum coverage for protection. But unfortunately, the gums can shrink back or recede, usually due to gum disease or over-aggressive brushing, and expose some of the root surface. With only the cementum to protect them, the roots can become highly susceptible to decay. If a cavity forms here, it can rapidly advance into the tooth's interior, the pulp, weakening the tooth and increasing its risk of loss.
To stop the decay, we must treat root cavities much like we do with crown cavities: by removing any decayed structure and then filling the cavity. But root cavities are often more difficult to access depending on how far below the gum line they extend. We may need to perform minor gum surgery to expose the cavity to treat it.
But as with any form of tooth decay, the best strategy is to prevent root cavities in the first place. Your first line of defense is a daily hygiene habit of brushing and flossing to remove dental plaque, the main cause for tooth decay. You should also visit your dentist at least twice a year (or more, if recommended) for more thorough cleanings and checkups. Your dentist can also recommend or prescribe preventive rinses, or apply fluoride to at-risk tooth surfaces to strengthen them.
You should also be on the lookout for any signs of gum disease. If you see swollen, reddened or bleeding gums, see your dentist as soon as possible. Stopping possible gum recession will further reduce your risk of root cavities.
If you would like more information on the prevention and treatment of tooth decay, please contact us or schedule an appointment for a consultation. You can also learn more about this topic by reading the Dear Doctor magazine article "Root Cavities: Tooth Decay Near the Gum Line Affects Many Older Adults."
By Park Hill Dental Arts
March 22, 2019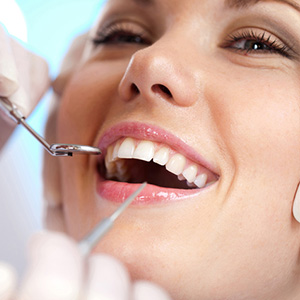 More than likely your great-grandparents, grandparents and even your parents had a common dental experience: when one of their teeth developed a cavity, their dentist removed the decayed portion (and maybe a little more) through drilling and then filled the cavity. In other words, treatment was mainly reactive—fix the problem when it occurred, then fix it again if it reoccurred.
You may have had similar experiences—but the chances are good your dentist's approach is now quite different. Today's tooth decay treatment is much more proactive: address first the issues that cause tooth decay, and if it does occur treat it with an eye on preventing it in the future.
This approach depends on maintaining equilibrium between two sets of competing factors that influence how your teeth may encounter tooth decay. This is known as the caries balance (caries being another name for tooth decay). On one side are factors that increase the risk of decay, known by the acronym BAD: Bad Bacteria that produce acid that dissolves the minerals in tooth enamel; Absence of Saliva, the body's natural acid neutralizer; and Dietary Habits, especially foods with added sugars that feed bacteria, and acid that further weakens enamel.
There are also factors that decrease the risk of tooth decay, known by the acronym SAFE: Saliva and Sealants, which focuses on methods to boost low salivary flow and cover chewing surfaces prone to decay with sealant materials; Antimicrobials, rinses or other substances that reduce bad bacteria populations and encourage the growth of beneficial strains; Fluoride, increased intake or topical applications of this known enamel-strengthening chemical; and Effective Diet, reducing the amount and frequency of sugary or acidic foods and replacing them with more dental-friendly choices.
In effect, we employ a variety of techniques and materials that inhibit BAD factors and support SAFE ones. The foundation for prevention, though, remains the same as it was for past family generations—practice effective oral hygiene by brushing and flossing daily and regular dental cleanings and checkups to keep bacterial plaque from accumulating and growing. Your own diligent daily care rounds out this more effective way that could change your family history of tooth decay for you and future generations.
If you would like more information on preventing and treating tooth decay, please contact us or schedule an appointment for a consultation.